Now you can build Tier 2 in Serpzilla – we have added a new option for link weight improvement. Now each backlink can be strengthened by buying new links to the donor page. Set a budget, choose Tier 2 links and enhance the effect of the link building.
Now in more detail.
According to the Serpzilla Global Research, the link profile is a key ranking factor in Google, no less significant than, for example, technical optimisation.
Therefore, SEO specialists around the world are looking for a quick and effective way to strengthen their link profile. One of the most popular strategies in link building is called Tier.
How does Tier work?
Tier is one of the link building strategies, in which the donor page is being strengthened with additional links. On the Russian Internet it is called a "multi-tier link building" or "link strengthening".
To put it simply, this strategy implies adding link boosters not to your URL directly, but to a separate site containing your URL. So, Tier 1 includes backlinks leading directly to the site. Tier 2 – links leading to separate pages containing Tier 1 links. Tier 3 – links leading to pages containing Tier 2. Usually, after Tier 3 the link chain cannot be increased.
The diagram below shows how this happens.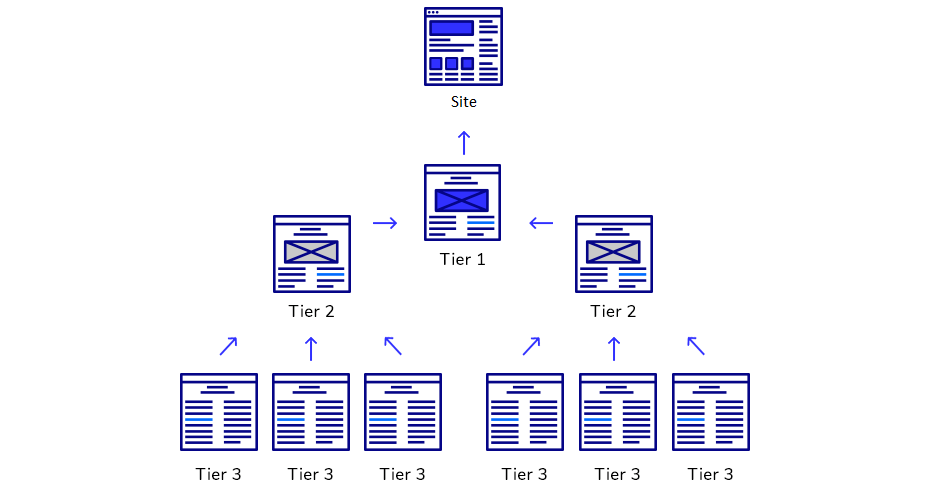 Tier links can strengthen the site's link profile, because an optimised external page with a link to your site can be far more useful than one more additional link to the site.
Second-level pages (Tier 2) accumulate the link weight and pass it to your site. Usually, the specialists choose to strengthen trust links, thereby multiplying the effect of SEO, getting organic traffic and a fast growth in position.
Tier helps to:
Increase the link building effect without risking a link explosion. If you are lagging behind your competitors and cannot quickly build up your link mass, multi-level strategies will help you gain link weight without the risk of sanctions.

Increase the effect of expensive backlinks, for example, eternal ones or the ones from the main pages. If your budget or abilities restrict you from finding a new trust link, you can boost existing ones with Tier.

Speed up indexing and the appearance of links in Yandex.Webmaster and Google Search Console.

Strengthen the site's link profile with optimised external pages.
Tiered link building strategies — a year of work of Serpzilla experts
After a year of research and testing, we have created a solution for our users. The new Serpzilla option automates the Tier 2 network configuring, which makes it available to most specialists. From now on, all purchased links in Serpzilla.com can be strengthened.
Features of working with Tier in Serpzilla:
Unique cascade filters will help to select the best sites for tiered link building. The algorithms will find trust sites with high traffic rate, high percentage of link indexing and a predominantly thematic text environment.

The system will independently generate a relevant anchor list corresponding to the promoted page and the booster donor.

Dozens of high quality links will be purchased to strengthen the donor page.

No need to manually monitor the indexing of links, Serpzilla will replace non-indexed links automatically.
If you want to spend your link optimisation budget more efficiently, use SMART strategies. Optimise like an expert!